It's very important in the Daniel Plan to have some measurements, a starting place. As Rick Warren says, you can't manage what you don't measure. So several of the beginning measurements would be your weight and your waist size.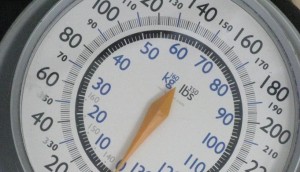 If possible blood pressure and other bloodtests can be taken as well. In fact a portable blood pressure cuff to regularly measure and update your progress is a good item. I use the Omron HEM-629 which works quite well.
THE NEXT IMPORTANT AREA IS CALORIES
You must get a handle on what your are consuming., Write down for a few days, all snacks, meals etc. Then after you can see the items on the list, start determining the calories. Once you can see the amounts your are eating, then….determine a goal to cut down to. The NIH has a great tool to estimating your caloric needs. For myself, I estimated I could have a stable weight at between 1800-1900 calories per day, but was consuming about 2200. With the idea of putting better food into me, and watching the calories as well, I selected a goal of 1300 calories per day, to burn off 5-6 pounds per month. I didn't find that NIH site till well after my weight loss, but yup, that was the right level.